Normally a monotype print is as the word says, a single print. But by using a Monotype and an object, you can create 3 different prints.
You print a positive one, a negative version, and one final of the object itself.
How? Take a plexiglass or thick plastic sheet and roll printing ink on it with a small roller, not too thick, and not too thin either.
Put an object (leaf, flower, net etc.) on the ink, cover it with a piece of aquarelle paper (200 gr. min.) and roll firm with a big roller by hand, or by using a press.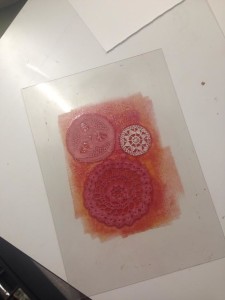 Then take the paper off the sheet or plexiglass, be careful, and you will have the negative print.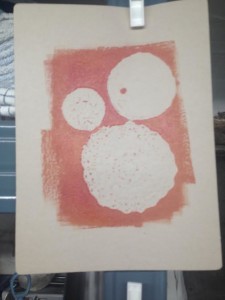 Take the object of the sheet and put it on a piece of normal paper with the ink side up. Cover it with a sheet of aquarelle paper and roll/press again, this is print 2, the positive print.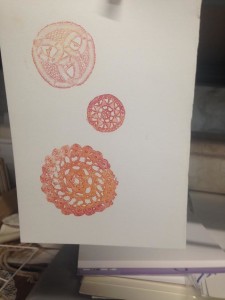 Put on top of the sheet you still have, another piece of aquarelle paper and roll/press again, now number 3 is born.
Always fun to do and a surprise to see what it does when you roll or press it. When the prints are dry, you can work on it with color pencil, soft pastel, ink or acrylic paint etc.