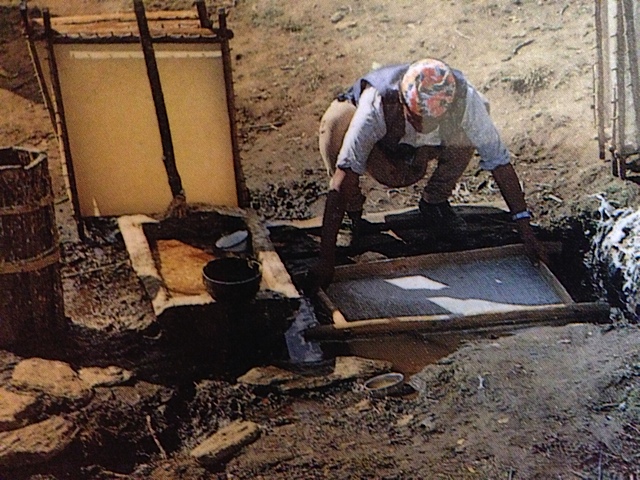 Lokta paper is handmade and comes from the Himalayas in Nepal. It is made traditionally by Nepalese families near a river from the Lokta plant or Papyraceas. This plant grows in the mountains at an altitude between 1800 and 2500 meters.
It is cooked on a wood stove to get the smooth material to make paper. This material is beaten till pulp and this will go on frames with cotton. It is sun dried and each paper sheet is different, unique. When it is dried it will be taken from these frames! Lokta is a kind of grass with a so-called Daphne-fiber, which makes it strong. You can see the structure in every sheet when you hold it against the light, which makes it so interesting to work with.
Years ago I found this kind of paper in a Spanish shop and I fell in love with it, but after some time I could't find it anymore. It took me some time to search. I made small cards on what was left of the paper with my phone number on it, and added the text: "If you find this kind of paper, please call me."
One day a client came and I gave her also a piece of this Lokta paper, and she said that she had a stock of paper in various thicknesses….wow……
It happened to be that she had a hotel years ago, in Kathmandu (between 1985-1991). Nearby her hotel was a small plant where this paper was made with traditional skills. She bought this paper to take to the Netherlands to support the Nepalese families.
Willemijn van der Maesen is her name, and we soon became friends, I am still very thankful to have met her. Besides the inspiring paper, she is a very nice person.
She still had a lot of this beautiful Lokta paper left and it was kept in a warehouse. I'm now fortunate to have this paper to work with. Was it there all that time waiting for me to paint on?….