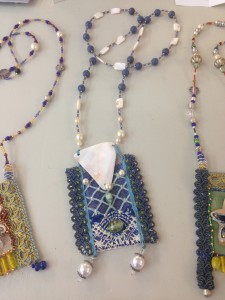 Boho chique Jewelry.
Handmade jewelry in Mixed media with vintage French lace, embroidery, pearls, buttons and textiles. Technic used: slows stitching and Sashiko embroidery.
At first I used vintage items in my paintings and monotype prints. And due to my pop-up store, "Art en Loire", the idea came to me to make little bags, and slowly I discovered I like to make lamps, cushions, dreamcathers and…..pendants.
I started to collect pearls and vintage ornaments I could use in my jewelry. The re-use of things is a sport and an inspiration source for the joy of creating.
Now for sale in our Boutique Art en Loire in La Charité sur Loire / Burgundy, from April First till the end of December. You can find us also on Facebook and Tripadvisor.