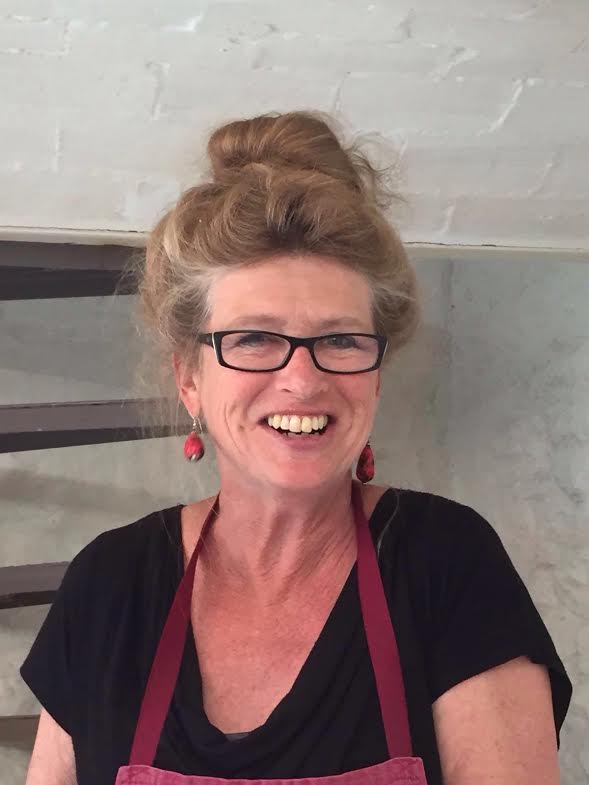 I am a Dutch painter living in the heart of France in Burgundy since 1998. My husband Bas and I travelled a lot, nowadays less and living happily in La Charité sur Loire. In 2009 we have opened a Cultural Center for workshops in Art, called Atelier Faubourg I am lucky to meet here people from all over the world, they come to our place for the workshops we organize. In 2008 I've set-up as co-founder the art-group "Morvan Artistique," 20 artists working in and around Parc du Morvan – Burgundy – France.
During my travels, before I settled down in France, I made Aquarelle paintings in the so called technique, "Wash and Line" with a travel painting kit and in small sizes. Now I am so happy with my spacious studio, with lots of room to work at a larger size as well, and it is here I give my Workshops.
I love to work on Paper, Carton and Canvas.  My work is in Aquarelle, Acrylic and Oil paint mixable with water. Style is Mixed Media / Collage / Monotype.  I like to re-use the material I'll find at the many brocantes and old houses here in France, such as old pics and wall-paper.
My inspiration is Nature, Travel, Signs & Symbols and Decorations from all over the world, music, films, and a lot more……………..
Hope you enjoy surfing through my website, if you have any questions or if you are interested in buying one of my works, please read "When you buy my Artwork" on the left bottom of this page and please contact me on the Contact Page for prices, shipping or just a question.
Kindest Regards,
Agnes